All-in-One Marketing Suite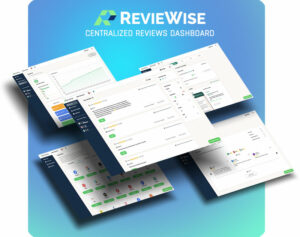 RevieWise is a reputation marketing suite designed to help businesses grow their online reputation. It offers a comprehensive range of features that enable them to get more reviews from customers, easily and conveniently.
It allows businesses to collect feedback from customers through various means, including QR codes, email, SMS, and WhatsApp. This enables customers to leave reviews quickly and without any hassle. Additionally, businesses have access to various business integration features that help them manage their online reputation more efficiently. These business integrations streamline the process of collecting and responding to reviews, which makes it easier for businesses to deliver the best possible customer service.
Key Features
Build a Positive Reputation
Online reviews have become increasingly important for businesses, both large and small. As customers rely more on online reviews when making purchase decisions, it's essential for companies to manage their reputation and promote their best reviews. Fortunately, RevieWise helps businesses do just that.
RevieWise enables businesses to easily collect customer reviews and make sure the best ones are seen by potential customers. It also ensures that any negative feedback is effectively managed in order to maintain an excellent online reputation. With RevieWise, businesses can finally have peace of mind knowing that they're promoting their best reviews where it matters most – on the internet.
Generate Reviews
Recent studies have shown that 93% of consumers now read online reviews when making decisions. This means the importance of reputation management for businesses has never been higher. With RevieWise, companies can ensure they keep getting fresh reviews and maintain a strong online reputation effortlessly.
RevieWise makes it easy to collect feedback from customers quickly and efficiently and monitor customer sentiment. This helps businesses identify positive trends about their products and services, as well as areas for improvement so they can stay on top of their game.
Improve Online Visibility
The importance of online reviews cannot be overstated. As potential customers look for a place to shop, dine or enjoy an activity, they turn to Google Maps, Yelp, and Tripadvisor. These popular websites have become the go-to guides for finding out what other customers have had to say about their experience. Google reviews in particular are important due to the search engine's immense popularity.
With over thousands of monthly searches in your specific area and industry, businesses that appear on the first page of search engine results have an advantage in terms of gaining customer trust since they are seen as more credible sources than those further down in rankings.
This is why businesses should take advantage of a reputation management solution to ensure their online reputation and presence are optimized on these platforms. One of the best strategies is to increase your 5-star reviews. Doing so will ensure potential customers have access to positive feedback about your business, thus making them more likely to choose you over other competitors. A positive online reputation is a great way to establish trust with consumers and ultimately increase sales and revenue.
Why Use RevieWise?
When it comes to growing a business, making sure that it stands out from the competition is key. As such, increasing your reviews and ratings on popular review platforms like Google Maps, Yelp, or Tripadvisor, and getting potential customers interested in your business are crucial. RevieWise provides a powerful solution to help businesses expand their reach and increase their online visibility.
It provides a seamless solution for businesses to easily and quickly collect customer feedback while allowing businesses to internalize any negative reviews automatically. By leveraging this powerful tool, businesses can boost their online reputation with confidence while protecting themselves against negative publicity or malicious content.
Online reputation is the lifeblood of any business's success in today's digital age. Having a good online reputation and customer feedback is essential in order to build trust with potential customers. With RevieWise, you can effortlessly increase your brand visibility and profits by managing your online reputation effectively.
Conclusion
RevieWise is an all-in-one marketing suite designed to help you get more customer feedback quickly and easily. It automates everything from collecting customer reviews to responding to them, allowing you to focus on other tasks related to running your business. In a competitive market, gaining customers is only half the battle; maintaining a high customer satisfaction rating is just as important.