Turn Your Business Into a 5-Star Haven

At RevieWise, we provide our clients with a comprehensive solution that leverages both traditional and digital channels to maximize your customer reach and drive reviews to your favorite review platforms.
Our review marketing tool simplifies for you the process of requesting and capturing reviews from customers across multiple touchpoints. As such, you can ensure that you are reaching your audience wherever they are most comfortable providing feedback, and increase the likelihood of getting more positive reviews for your business!
How to Do It Right: Review Capture Made Easy
Streamline your review requests with our proven methods:
1. QR Codes
Quick Response (QR) codes have seen a tremendous surge in popularity, particularly since the onset of the global pandemic in 2020 as businesses sought contactless solutions to minimize physical interactions. In fact, QR code usage nowadays is still on the rise and shows no sign of slowing down.
With its benefits, it comes as no surprise. With your RevieWise QR code, your customers can easily leave their feedback with just a scan from their smartphones, making it a highly recommended review-capturing method:
Accessible to Everyone. QR codes are accessible to practically everyone with a mobile device. W

ith smartphone adoption rates on the rise globally, QR code usage is only set to increase too.

Quick & Easy To Scan. They offer a seamless experience – no more typing long URLs or struggling with tiny hyperlinks on mobile screens.
Eye-catching, Promotes Engagement. They are immediately recognizable and encourage customer engagement.
Versatile Areas of Application. From in-store displays to printed materials, they can be placed at every customer touchpoint. As a RevieWise client, you can request your free QR code display design and choose from among our selection of print-ready options.
QR Code Display Ideas – Think Outside the Box!
Why settle for a plain QR code square when you can use it to maximum effect to captivate your audience? Here are some ideas to display your RevieWise QR code in strategic and creative ways that will engage your customers.
In-Store / Establishments
First, make sure to choose easily visible & accessible locations throughout your establishment while avoiding areas that could clog foot traffic such as entranceways.
Table tents and tabletop inserts are popular choices for restaurants and bars. They can be placed at the tables, the bar, or on the counter by the register.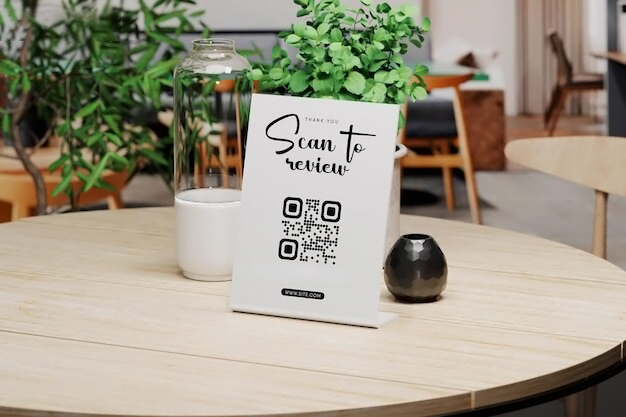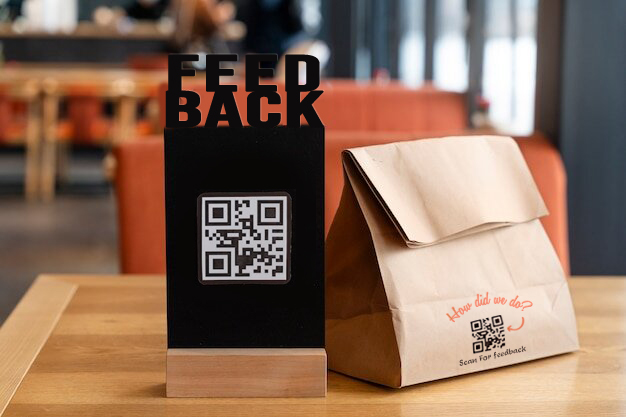 Signage like banners, posters, sandwich boards, or digital screens can effectively draw the eye.
Staff t-shirts, coasters, payment trays, shopping bags, or 'Thank You' cards with complimentary snacks, treats, or other freebies.
For takeout customers: receipts, menus, flyers/handouts, or takeout bags/containers.
In hospitality: welcome amenities card or brochure, lobby/common areas, concierge, check-out desk, and on the back of guestroom door which serves as an effective reminder at the end of the stay.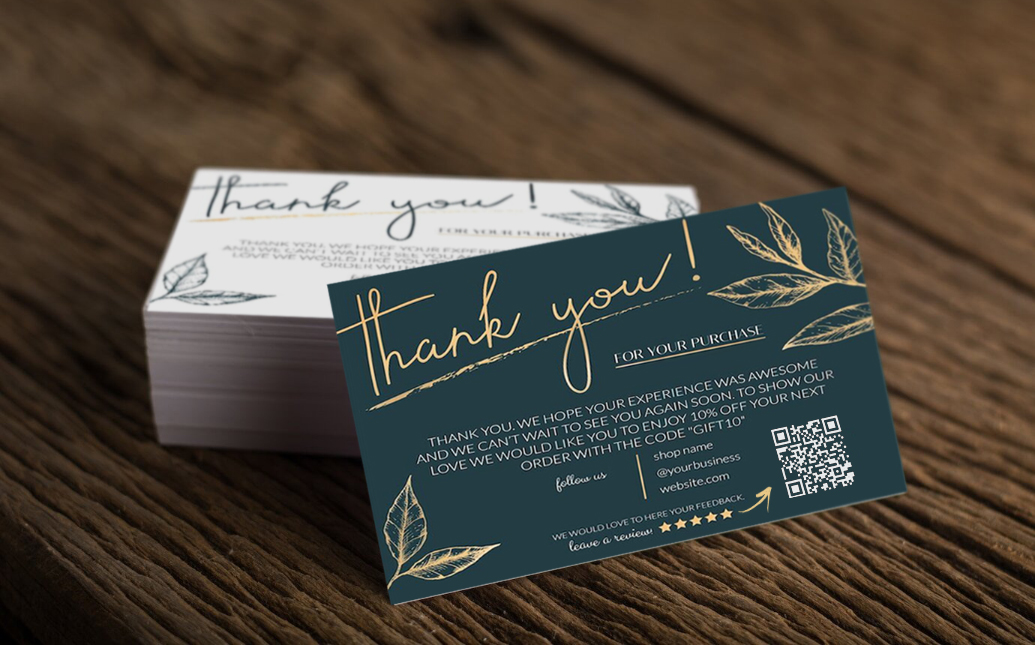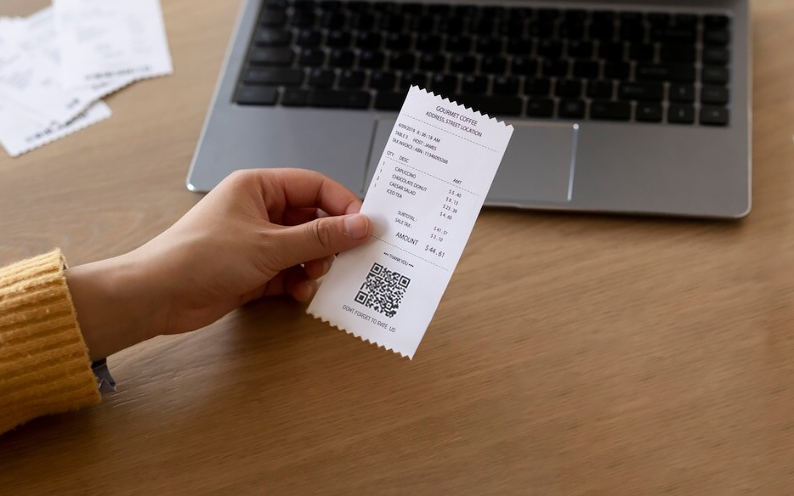 eCommerce
Product packaging, postal bags/packaging, or footer section of invoices or sales receipts are all excellent choices for displaying your RevieWise QR code.
Tags, labels, stickers, or 'Thank You' cards appealingly designed, work just as well.
Leaflets, coupons/special offers, or other promotional materials.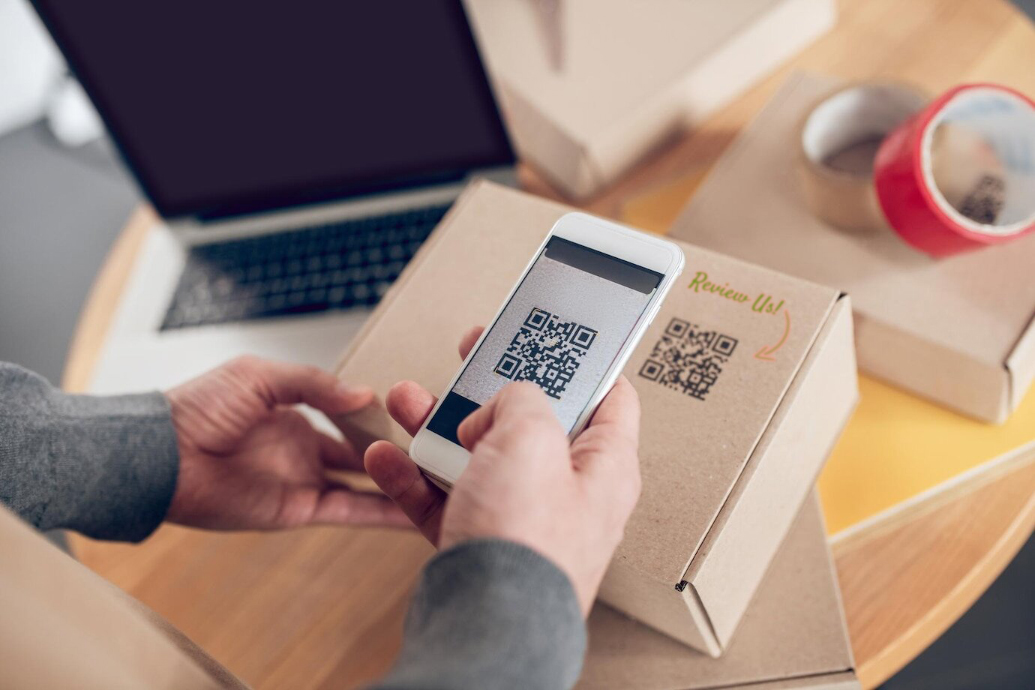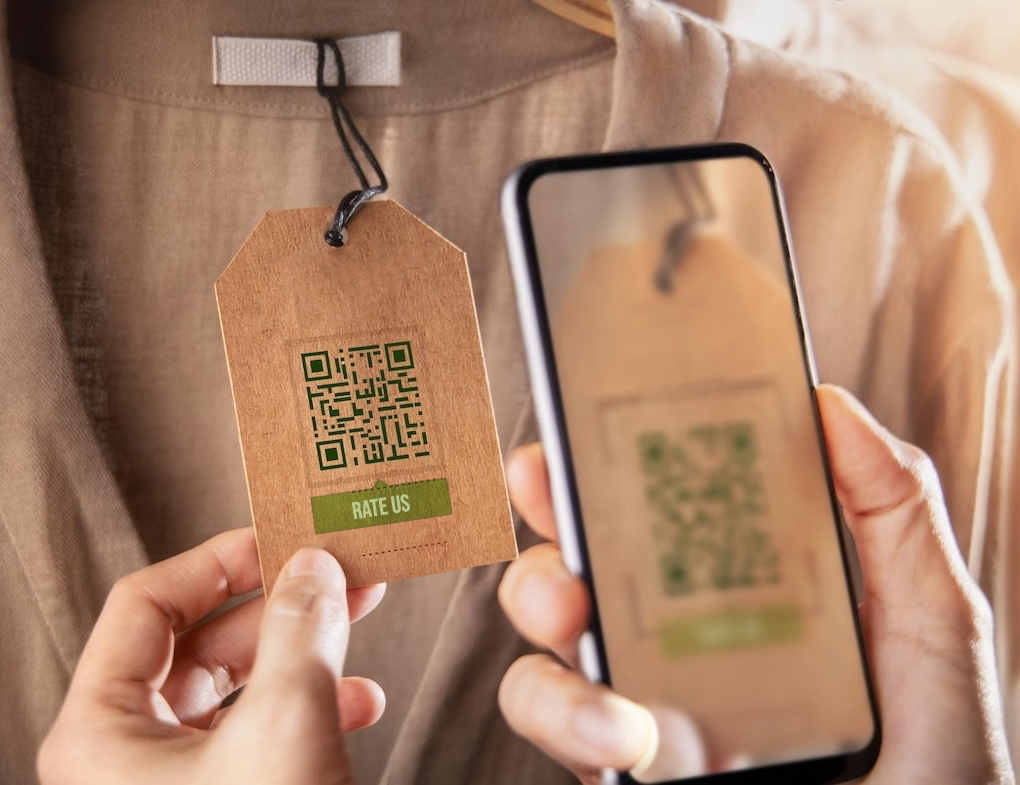 Tradespeople / Service Businesses
For service-based professionals such as plumbers, mechanics, locksmiths, interior designers, etc., you can incorporate it into your business card's design. Ideal spots include off to the side, top-right or bottom-right corner, or on the back.
Invoices, or pamphlets showcasing your services, specialisms, and case studies.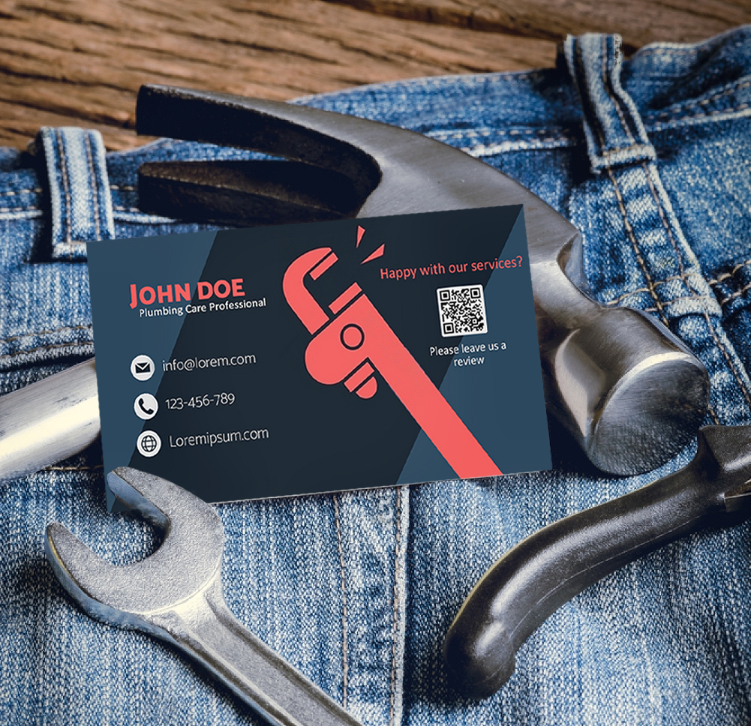 Digital Platforms
Although they are more commonly used on physical surfaces, QR codes can also be embedded in the digital domain.
Websites, blogs, and social media platforms.
Digital flipbooks/catalogs/menus, slideshows, videos, or ebooks/PDFs.
Email newsletters, or signatures.
2. Email Campaigns
Email is an efficient method of sending review requests. With RevieWise, you can conveniently create customizable email campaigns to reach specific customers, or segments of your customer base.
Eliminates the need for in-person requests, or manual follow-up phone calls.
Ability to reach a large audience simultaneously.
Customers can read emails at their own leisure, making it more likely that they will take the time to leave a review.
3. SMS Campaigns
Similarly, text messaging presents an opportunity for you to effectively reach a larger audience. By including a custom message and link, you can seamlessly guide recipients to your RevieWise page.
The number of mobile users worldwide is continually on the rise, and most people carry their phones with them at all times.
According to statistics, text messages have an incredibly high open rate of 95-99%.
Unlike emails that can get lost in a cluttered inbox or go unnoticed for days, SMS messages are usually read within minutes of receipt, ensuring a higher chance of engagement.
Handy, Practical Tips for Your Team
Wondering how to obtain reviews from your customers? Just ask for them! According to a survey, over 65% of consumers are likely to leave a review when prompted.
While RevieWise provides you with the resources to streamline the process, it's also important to cultivate a culture among your team where seeking customer feedback becomes second nature. The key here is to make it a natural part of the customer journey rather than an intrusive or desperate request.
As a Team Leader:
1. Foster Teamwork & Brand Pride — Emphasize the importance of online reviews to your employees and how they contribute to the success of the business (and consequently their own).
By motivating your staff, you empower them as ambassadors for your brand and ensure that every interaction has the potential to turn to your company's advantage.
2. Establish a Review Culture — Let your team know that asking for a review is now an integral part of their work routine.
Train them on how to ask customers for reviews by providing clear guidelines or 'scripts' to follow. This will help them feel confident and comfortable when requesting reviews.
For a start, encourage them throughout the day and at staff meetings until review requests become a natural process. Also remember: praise is a potent (and free) motivator!
3. Offer Incentives — Create an incentive program, and reward your team once goals are met (e.g. based on a number of reviews secured half-yearly or yearly).
Some incentive ideas include cash bonuses, gift cards, coupons or vouchers, brand swag, gift basket, free team lunch or outing, extra vacation day or work-from-home day, tickets to an event, or office amenities.
As a Team Member:
1. Consider Your Approach, Timing & Method.
When asking customers for reviews, it's important to find a balance between being direct and respectful of their time.
In-person: In hospitality such as hotels or restaurants, ask after completion of the service. In retail such as specialty stores, remind your customers to leave their feedback but let them do so at their own convenience by giving them a take-away item that features your RevieWise QR code.
Via Email or SMS: Don't ask too soon. Studies show that customers are more likely to post a review if reminded after a week rather than earlier. So, aim for five days to two weeks after they have enough time to try out your product or service.
2. Read the Customer's Mood.
Be tactful – gauge a customer's mood by paying attention to their body language cues and facial expressions, and act accordingly.
Happy customer ⟶ Ask for a review, it's as simple as that! Make sure to direct them where to do so, for e.g., by scanning your RevieWise QR code on a table tent.
Regular customer ⟶ Express appreciation for their patronage and ask for a review. If they have done so already, thank them and keep them happy. Remember, a customer who feels valued will recommend you to friends and family.
Busy customer ⟶ Keep it brief and polite. Don't ask them to leave a review right away. Instead, provide them with the means to do so when it suits them (e.g. 'Thank You' card with your RevieWise QR code).
Unhappy customer ⟶ Avoid pushing for a review; focus on addressing their concerns first.
3. Ask for Feedback First, then a Review.
Rather than directly ask for a review, keep things conversational first and ask whether their customer experience was to their satisfaction (e.g. "Did you enjoy your meal?", "How was your stay with us?", "What did you enjoy the most?").
If affirmative, express appreciation and ask them if they would be willing to leave a review as it greatly supports the business.
This approach helps put the customer at ease and be more receptive. This way, you can also gauge if they are satisfied or not, and determine whether to actually ask for a review.
4. Handle Negative Feedback Professionally.
Whether it's constructive criticism or not, always keep your cool! The manner in which you deal with an unhappy customer can potentially turn the situation around.
Stay courteous and attentive, apologize and empathize, and offer solutions to make things right. If the issue is resolved and the customer is fully satisfied, you may tactfully push for a review.
Remember, if handled well, a customer is very likely to revise an initially unfavorable review into a favorable one!
5. Thank the Customer.
People love feeling appreciated, so make sure to thank those who take the time to leave a review. Keep it simple and genuine; let them know that you appreciate their business and support.
Don't Get Left Behind
Remember that the sooner you integrate your RevieWise system into your business, the greater a head start you will have in propelling your brand forward and gaining the edge over competitors.
So why wait? Take advantage of our review-capturing tools, follow our best practices, and watch your customer reviews grow on autopilot!